View All News
From the Board Report - November 2022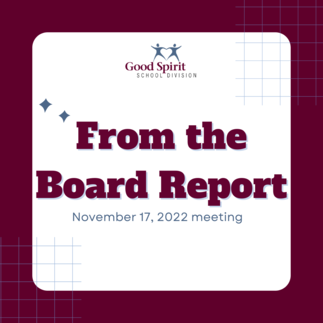 2022 11 17 From the Board Report
The regular Board meeting for November 2022 took place at the Good Spirit Education Complex on Thursday, November 17, 2022. Trustees who were in attendance included: Chairperson Jaime Johnson, Vice Chairperson Steve Variyan, Trustees Jade Anderson, Chris Balyski, Gilda Dokuchie, Shannon Leson, Jan Morrison, Nicole Pohl, Bob Simpson, and Lois Smandych. Division office staff in attendance included Director of Education/CEO Quintin Robertson, Chief Financial Officer Keith Gervais, Superintendent of Schools Shaune Beatty, and Executive Services Supervisor Heather Morris.
Chair Johnson opened the meeting by welcoming Superintendent of Schools Shaune Beatty and Canora Composite School Vice Principal Derek Serdachny.
In this report: 
Accountability Report
Bus Route Development
School Community Councils 
and more!