View All News
Recipient Schools Announced for 2022 Mosaic School Nutrition Challenge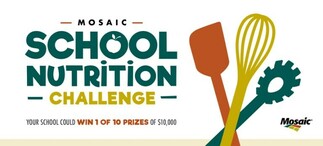 Ten schools in Saskatchewan will each receive a $10,000 grant to support student nutrition after being selected to win this year's Mosaic Extreme School Nutrition Challenge. 

Melville Comprehensive School (MCS) is one of the schools receiving a $10,000 grant! 

The grant will go towards implementing breakfast/snack programs, enhancing existing lunch programs, and offering student/parent cooking classes. Congratulations MCS!

The grants will support winning projects that have goals including implementing or expanding nutrition programs, enhancing kitchen and garden facilities, increasing educational opportunities for students and families and supporting reconciliation and cultural projects. 

View the 2022 Winners here: MSNC Winners 2022 

Schools from across Saskatchewan submit applications that explain their current school environment and improvement plans for the upcoming school year. This program began in 2006, and works to encourage grassroots initiatives to help improve student nutrition.