View All News
Board Meeting Information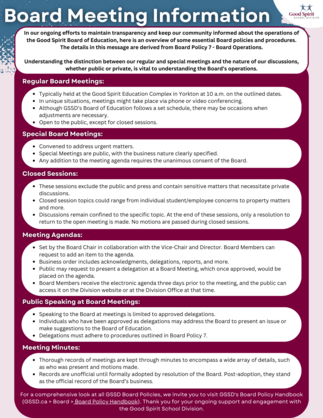 In our ongoing efforts of maintaining transparency, we have summarized some key points from Board Policy 7 – Board Operations. To view the whole policy, click the link below!
https://www.gssd.ca/download/389063
We'd also like to highlight our upcoming meeting dates!
November 16, 2023
December 14, 2023
January 25, 2024
February 29, 2024
March 28, 2024
April 25, 2024
May 23, 2024 (Special Meeting)
June 13, 2024
August 15, 2024 (Organizational Meeting)
Meetings will be held at the Good Spirit Education Complex in the RM of Orkney or via Video Conference at 10:00 a.m.
The Board of Education's Annual Work Plan is also available to view on our website! This Policy outlines topics that will be addressed at each Board Meeting throughout the 2023-24 School Year. Click the link below to view!
https://www.gssd.ca/download/394353
All Board information can be found at GSSD.ca > Board.
#gssd204