View All News
Feature Friday: Dr. Brass Performing Arts Academy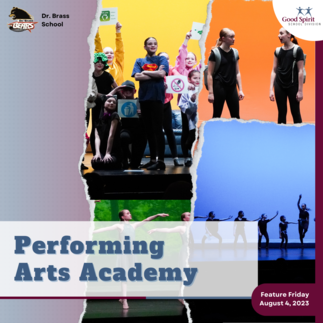 Feature Friday is here again! Today, we take a glimpse into the Performing Arts Academy at Dr. Brass!

Did you know that Dr. Brass has a Performing Arts Academy!? A place where children of all dance and drama backgrounds find a place to belong. The positive and inclusive environment ensures that children of all levels feel inspired and celebrated.

Every afternoon, Grade 5-8 students have the exciting opportunity to train off campus, where they dive into a diverse range of genres, including Musical Theatre, Jazz, Hip Hop, Contemporary and Conditioning. Through these experiences students develop not only their dance abilities but also their artistic expression and creativity. Dance provides a safe space for self-discovery, fostering a deep sense of confidence and self-assurance and Dr. Brass is excited to have this unique program for their students.

Acting is included in the academy, empowering students with the confidence to excel in public speaking and connect with the essence of characterization. This invaluable skill enhances their communication abilities and boosts self-assurance within the studio and beyond.
Arts are a powerful means of expression and a way to enrich school culture. Students actively contribute to their school community through their artistic endeavors. Br. Brass believes in celebrating the accomplishments of their students, and public performances are one of the ways they do so. Live performances allow students to experience the thrill of being recognized and celebrated by their community.

At the Dr. Brass Performing Arts Academy, they strive to create an environment where every child can flourish and grow as both an artist and an individual. They look forward to welcoming students to the Performing Arts community, where passion meets creativity, and every child feels a part of the magic!