View All News
GSSD's Round Dance for Truth & Reconciliation - Saturday, December 16, 2023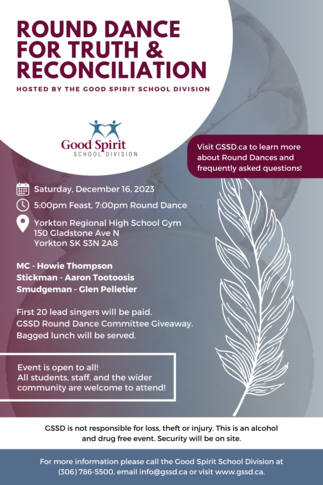 We are excited to share that the Good Spirit School Division (GSSD) has taken a momentous step to acknowledge, honor, and foster understanding and unity. We are proud to announce that GSSD will be hosting its first ever Round Dance for Truth and Reconciliation. The event will be held at the Yorkton Regional High School Gym.
Click here for our Frequently Asked Questions Document and to learn more about Round Dances!
Event Details:
Date: Sat., Dec. 16/23
Venue: Yorkton Regional High School Gym
Time: The event will commence at 5:00 pm with a feast, followed by the round dance at approximately 7:00 pm.
The Significance of a Round Dance in First Nations Culture:
The Round Dance is deeply rooted in First Nations culture, it is a community gathering that celebrates life, encourages friendship, and brings people together. At a Round dance, people join hands and dance in a circular motion, reflecting the circle of life. Round dances often occur during the winter months and usually start around supper time, with communities feeding the people, and can go late into the night. Hosting such a significant cultural event in our division emphasizes the importance of understanding and recognizing the indigenous cultures that contribute so deeply to our Canadian tapestry.
Reason for Choosing Saturday:
Selecting Saturday for this significant event provides an opportunity for more community members, students, and staff to participate without the constraints of weekday commitments. We aim for the highest attendance and involvement, given the cultural importance and learning opportunity the Round Dance presents.
Invitation to Attend:
We would like to wholeheartedly invite school staff, students, SCC members, and the wider community to attend and participate in this landmark event. Your presence will not only lend support to the significance of the Round Dance but also highlight the unity of our diverse community.