View All News
October 17, 2023 is Bus Driver Appreciation Day!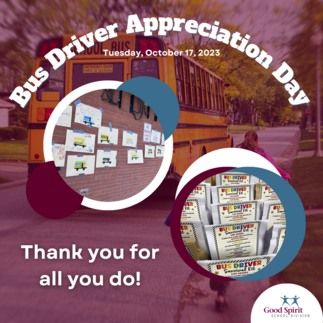 Tomorrow is all about celebrating the incredible individuals who make a significant difference in our students' lives – it's Bus Driver Appreciation Day! From the early morning routes to the late afternoon drop-offs, our devoted bus drivers play a vital role in ensuring a safe and smooth journey for our children.
It's more than just a job; it's a responsibility they embrace with open arms and warm smiles.Let's take a moment to express our heartfelt gratitude for these unsung heroes who keep our kids on the road to success. Your dedication, patience, and caring nature make all the difference in our children's daily routines.
Thank you, Good Spirit School Division bus drivers, for being the wheels behind our students' educational journeys! Join us in giving them a round of applause tomorrow and every day.