Good Spirit School Division transports over 2,900 students traveling more than 19,000 km each day.  Our bus fleet has 138 buses (97 active routes).  Rural students within the coterminous boundaries with Christ the Teacher Catholic Schools, are transported by Good Spirit School Division to their schools in the communities of Melville and Yorkton. City Bus Transportation is provided in Yorkton and Melville.  If you are not sure which school your child will attend, please refer to our Attendance Area Finder​ for more information.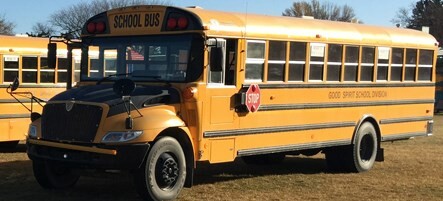 Transportation Guidelines
​Please review this information with your child: 
Admin Procedure 554: Student Transportation Code of Conduct
Safety
Admin Procedure 550: Transportation Safety
Admin Procedure 131: Emergency Closing of Schools

Every reasonable effort is to be made to hold school on the days stipulated in the annual school calendar.
When the weather poses a significant safety concern for the welfare of students, bus route service may be cancelled and/or schools may be closed.
Public messages in regards to school closures and/or school bus cancellations will be broadcast on local radio stations and, specific to school routes, through the use of the School Messenger. 

​​​​​​​​​​​​​​​​​​Rural Attendance Areas: Parents will be contacted by their bus driver at the beginning of each school year (or upon registration during the school year) and will be provided with bus route information.  
Urban Attendance Areas: City bus transportation is provided for students located in Yorkton & Melville, providing the student resides in the attendance area.
​​Parent Information
Transportation Maps (see below)
Bus Route Maps:
For further information contact: 
Transportation Dept.​  306.786.5505 or 1.877.390.0899​