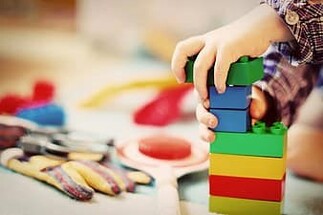 Prekindergarten programs support the holistic development of children that meet criteria established by the Ministry of Education. The program focuses on fostering social and emotional development, communication and language skills, fine and gross motor skills, intellectual development and self-help skills. Policies to ensure children living in vulnerable circumstances are given first opportunity to be enrolled in a Prekindergarten Program are followed to ensure the children and families with the greatest vulnerability are served first. Children who attend a licensed childcare facility are considered by the Ministry of Education to have a funded early learning spot and therefore would not qualify for PreK. 
The Early Learning Intensive Support Pilot Program (ELIS) is a program for young children who require intensive supports to meet their potential. ELIS provides additional spaces in a limited number of Prekindergarten programs to provide opportunities for children to engage in inclusive learning with other children the same age. Support will be provided through a collaborative team approach to meet individualized needs, and to promote strengths from learning and participation. The unique needs and circumstances of the child, the class and facility will be considered for each situation. Read about the program here: ELIS Family Brochure.
Transitioning into Prekindergarten - For parents of students with intensive needs, the following documents will be helpful for you to prepare for your child's transition to PreK meeting: Moving on In to PreK. 
More information including a Welcome to PreK video, the location of PreK programs, the application form and brochure are available below. 
Please apply for PreK, for the 2022-23 school year, by April 29, 2022.
PreK Locations
| | | |
| --- | --- | --- |
| ​​Community ​​ | ​Location​ | ​​​Phone  |
| ​Canora  | ​140 1st Ave West | ​306.563.5945 |
| ​Esterhazy PPEP  | ​Esterhazy High School  | ​306.745.2893  |
| ​Langenburg | ​Langenburg Central School  | ​306.743.2631 |
| ​Kamsack  | ​Victoria School  | ​306.542.2546 |
| ​Melville  | ​Davison School | ​306.728.3955 ​ |
| ​Yorkton   | ​Columbia School | ​306.786.5510  |
| ​Yorkton ​ | ​Dr Brass School​​​​ | ​306.786.5520  |